Summer 2022 Newsletter
Director's Message
Up in the mountains, summer is always a little slow to arrive. It was only a few weeks ago that everything was covered in snow and our aspens were just beginning to bud out. Once it finally does arrive it makes it very busy as we try to fit in as much outside time as possible. This push to do as much as we can and make as much vitamin D as possible in the three short months of summer makes me think about how we often treat early childhood in a similar way. We often look at the first five years of a child's life as this opportunity to do as much as possible with a kiddo. We say to ourselves that if we read with them, give them the right nutrition, get them into the right environments, get the caregivers to take all the trainings . . . Just like our summer bucket lists, the list of what we want for young children goes on and on.

As we all have been grappling together with what we want universal preschool and a refreshed and revitalized early childhood system in Colorado to look like, I think it gets very easy to make our bucket lists big! We want it all for young children, after all that is why we got into this field, so that young children would have everything they needed to be "valued, healthy, and thriving." The challenge is sometimes those bucket lists items start to compete and we lose sight of what it all is about. Just like when we cram too much into our summers and end up spending more time in the car driving from place to place.

As a community, how do we decide what is most important and what our priority is, when it all is important? For me, I think back on past summers with my own kiddo. While we have packed in tons of camps, had numerous weekend excursions, and done all the things one does in the summer, the moments we remember are sitting on our deck eating a pizza, or making the popsicles at home and waiting for them to be done, or walking up our road to watch the fireworks off in the distance while we sit in the quiet of the forest. It is all the little, unplanned moments that make the summer special. Early childhood is no different. We have amazing systems and service providers. We have wonderful early childhood professionals. We have communities that care enough to vote to ensure every child has at least some access to preschool. And we have big plans for early childhood. But before our bucket list gets too big, I hope we take a moment and remember that for children it is about the little and simple things. It is about someone holding and comforting the baby when it cries. It is about someone talking to the toddler about what they see out the window. It is about someone taking that preschooler's hand and welcoming them in. Ultimately, it is about the simplest thing of all, being in relationship with them as they grow.

My hope every summer is that I don't let it slip by, that I find those small and simple and oh so important moments. My hope this summer is that we, as a state-wide community, also don't let things slip by because our bucket list is big, but instead we look to the one simple thing our children need, those important relationships. Before we know it, fall will be here, and this generation of kiddos will be parents. Let's make those memories great for them!

Warmly,
Maegan Lokteff, PhD
ECCLA Executive Director
ECCLA would like to a wish a happy retirement to:

Hendrik Kopperl from the Early Childhood Council Leadership Alliance
Janine Pryor from the Chaffee County Early Childhood Council
Pam Walker the ECHO and Family Center Early Childhood Council (Fremont County)
Sandy Gregory from the Douglas County Early Childhood Council

Thank you for the work that you have done to strengthen Colorado's early childhood system over the years. You have helped make Colorado a better place for children, families, and educators. We hope that this next step in your journey is happy and fulfilling!
You Can Support the Development of Providers by Becoming a CDA Professional Development Specialist
The Child Development Associate Credential (CDA) is the most widely known certificate in early childhood education and is a flexible and inexpensive option for early childhood teachers who are looking for an alternative pathway to become Early Childhood Teacher qualified in Colorado. It is also the best "First Step" for those who are a little uncertain about college course work!  Scholarships, such as the one offered by Child Care Innovations at Red Rocks Community College*, have made the CDA an even more accessible pathway in Colorado.

More accessibility to the CDA Credential brings a greater need for the CDA Professional Development Specialist, the individual that performs the CDA candidates' Verification Visit. The PD Specialist is responsible for observing and assessing the candidate in their early learning setting, reviewing their portfolio, and facilitating a reflective conversation with them during the interview portion of their visit. The PD Specialist upholds the integrity of the CDA Credential by verifying the competencies of the candidate.

Are you interested in supporting the development of early childhood providers and becoming a CDA PD Specialist?

Am I eligible?
Eligible candidates hold an Associate or Bachelor's degree in Early Childhood Education/Child Development or a related field, and have experience working in an early childhood setting in child-facing roles. Candidates should also have experience (one year for those with a BA and two for those with an AA) in mentoring or supporting the professional growth of at least one other adult.
 
| | | | |
| --- | --- | --- | --- |
| Degree | Experience working in an early childhood setting | Experience working directly with children | Experience supporting the professional growth of another adult |
| Bachelor's | 2 years | 1 year | 1 year |
| Associate | 4 years | 2 years | 2 years |
 
I'm eligible, so how do I become a PD Specialist?
Create an account in YourCouncil (www.yourcouncil.org) if you do not have one already.
Fill out the application. You will want to have this information ready:

Have your college transcripts available
Know the endorsement setting for which you're applying (Infant/Toddler, Preschool, Family Child Care, Home Visitor)
Know if you're applying for a language specialization other than English
Details of all your Early Childhood Education work experience
Know your Specialist payment designation (i.e. Individual, Agency, or Volunteer)**

Complete the Online Training
Take the Exam
PD Specialists perform a critical role in ensuring that candidates applying for the CDA have fulfilled the requirements and can demonstrate knowledge, understanding, and practice of high-quality care for the children in their program. Visit www.cdacouncil.org or click this link to get started.
 
*Though housed at Red Rocks Community College, this scholarship is open to participants statewide.
**Honorariums: PD Specialists who apply as an Individual receive an honorarium of $100 for each completed and compliant visit. If the PD Specialist conducts Verification Visits on behalf of an agency, the honorarium will be sent to the Agency.
 
Justice, Equity, and Belonging Collaborative
Early Childhood Council Leadership Alliance (
ECCLA
) and 
The Colorado Coaching Consortium
 (CCC) are working together!  In a joint effort to be more responsive to coaching communities, 
ECCLA
 and CCC are collaborating with a current grant from the Temple Hoyne Buell Foundation.  This collaboration strengthens our mutual support for 'developing' coaches through a more coordinated outreach and delivery system to elevate, innovate, integrate, and advocate alongside state-wide partners.
To learn more about the CCC resources and professional development, please visit 
cocoaches.org
.
Other 

News

…
The Coaching Connections and Collaboration Committee (C4) continues to meet once a month to share upcoming professional development opportunities for coaches and brainstorm how to build a sustainable support system for both new and experienced coaches.. This diverse group of stakeholders all have a vested interest in the success and growth of early childhood coaches across the state. 
Healthy Child Care Colorado has convened a committee of key stakeholders to assist in planning The Consultative Roles Conference coming this winter.
Back to Work: Early Childhood Education Scholarship Program
The Back to Work: Early Childhood Education Scholarship Program is now six months old! Back to Work is a new scholarship program at ECCLA for Early Childhood students who were impacted by COVID-19 and will run until June 30, 2024. Our organization is proud to partner with the Colorado Department of Higher Education's COSI program to help provide the education and training early childhood students need for their next job in the Early Childhood field, through the new Back to Work Grant! You can find out more about the program on our website https://ecclacolorado.org/backtowork/
Applications are being accepted until January 31, 2024! If you've been impacted by COVID-19 and meet the eligibility guidelines, apply now! Back to Work can help pay for expenses beyond just tuition and fees! Participants must meet the following criteria and complete a credential/degree by June 2024:
Student experienced an economic loss within the last two years due to the COVID-19 pandemic, such as lost or adverse changes in employment, increased food or housing insecurity, had to withdraw from college after March 13, 2020, or suffered another form of economic loss.

Student is seeking to enroll or already enrolled in an undergraduate degree or certificate program related to the Early Childhood field.

Student is enrolled (or plans to enroll) at a Colorado Public Institution of Higher Education.

Student can complete credential or degree by June 30, 2024.

Student is a Colorado resident with in-state tuition and has an Expected Family Contribution (EFC) of 14614 or less as determined by FAFSA or CASFA. To learn more about the EFC requirement, click here.
 
The Back to Work ECE Scholarship/Career Navigator can provide support to participants in many different areas! The Navigator can provide support in any of the following areas related to your time in college:
Support in enrollment, registration, understanding the total cost of obtaining your degree, FAFSA, CASFA, financial aid, scholarships, and more!

Support in navigating institutional barriers, academic hurdles, and social, wellness, familial, and personal concerns

1:1 support to ensure progression toward the completion of your credential/degree

Support in connecting to resources, careers, and transitioning back into the workforce
 
Apply using the online application! Your online application will be submitted using SSL encryption which ensures your application information is 100% secure. Before you apply, gather the following documents: Proof of Admission to College, Unofficial Transcripts, and Verification of FAFSA/CASFA. You can visit our website for more information or go to https://awards.ecclacolorado.org to apply.
Participant Milestones & Stories of Impact
Back to Work awards scholarships to Early Childhood students across Colorado. In the Spring 2022 Semester, Back to Work awarded $75,550 to 32 recipients in 16 counties in Colorado.
---
Spotlight: Carol Hodge
I have been in child care for almost 6 yrs. I walked into the Kinder Haus in Jan of 2017 not knowing a single thing about childcare and what it involves. I know I had babysat all my younger life and thought it can't be that hard. Oh boy was I wrong! I walked in as a teacher aid, and in two months, I was asked if I would be willing to take college courses so I jumped on the chance and registered that upcoming semester. I finished my classes and became the lead teacher in the Butterfly classroom and led that classroom for almost two years while working on continuing my education.
When I originally walked in, I thought to myself how to cool would it be to climb that ladder, so I set my sights on that goal. While I ran the classroom, I was also taking all of the courses needed to become a Director. I finally accomplished that in 2019 but had to step away from my degree. Then, 2020 hit along with COVID and I kept seeing all these investments in continuing your education. I told my boss that I would like to finish my education and she handed me the flyer to the Back to Work: ECE program. I can't explain what a help this scholarship has been in helping me get back to my degree and really setting sail on finishing. As well as I can't begin to express how helpful Cameron was and how he walked me through what was needed and really was great encouragement and support. Without this program I would have probably kept putting my degree on the back burner.
Congratulations Carol on your dedication to get Back to Work!
T.E.A.C.H. Early Childhood Colorado Scholarship Program
Reimbursing for Summer 
We are still accepting applications for summer and fall semesters! If you have already paid your summer tuition, T.E.A.C.H. can reimburse you for 90% of your costs! Apply online at https://awards.ecclacolorado.org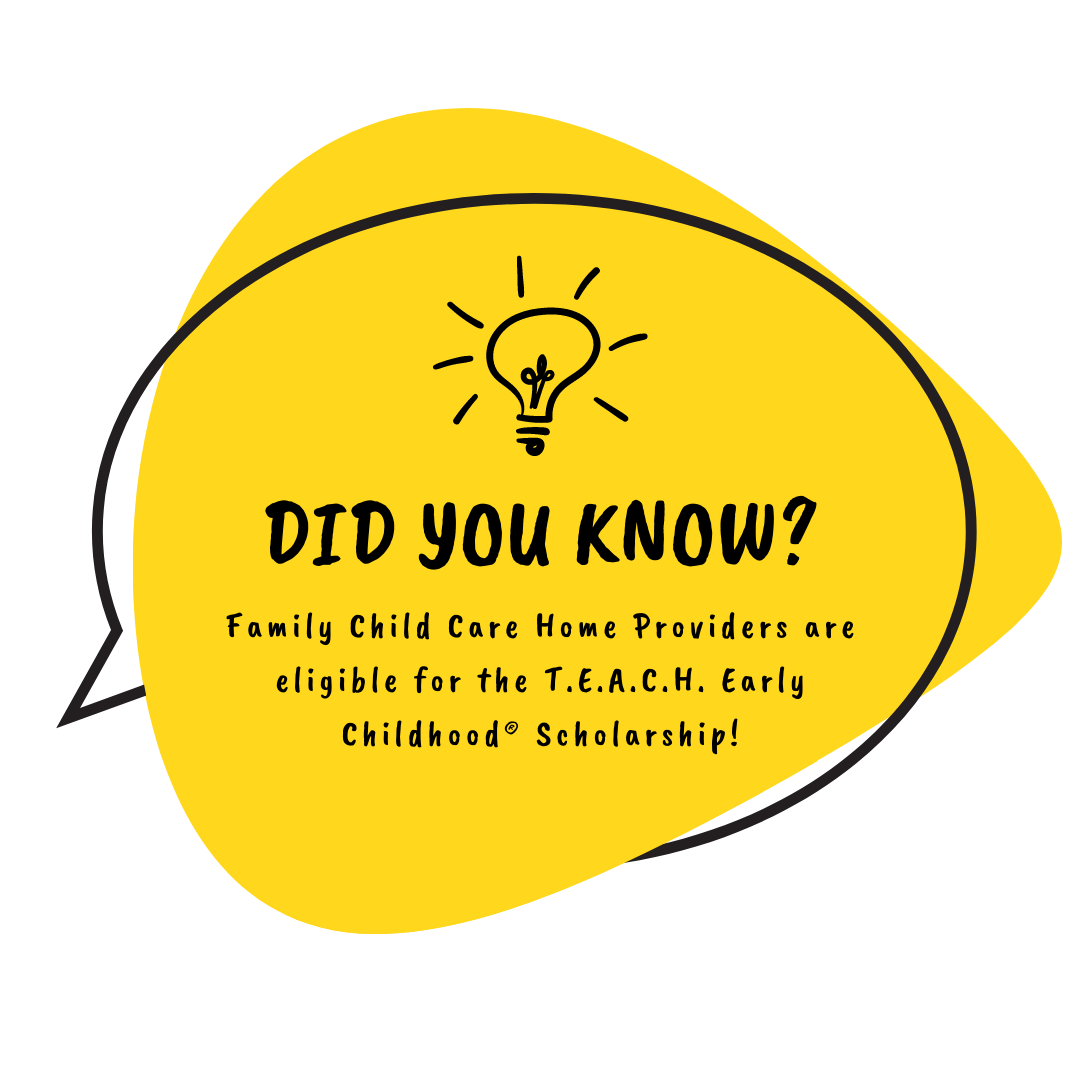 New T.E.A.C.H. Model!
We are excited to release our new T.E.A.C.H. Early Childhood® Scholarship Models for Early Childhood Community Specialists. View the new model matrix to learn more. 


---
Recipient Milestones

Congratulations to the following T.E.A.C.H. recipients for reaching their milestones this spring!

Shania Harris – Early Childhood Teacher Licensure
Jina Stremler – Director Qualifications
Ashley Hastedt – Director Qualifications.



Congratulations on your hard work and accomplishments!
Family Child Care Home Improvement Grant
In May, ECCLA awarded funding to 32 Family Child Care Home Providers to assist with costs for licensing and safety regulations, new program start up and more. To see the list of awardees, please visit our website at www.ecclacolorado.org/fcchgrant.

The next application for this amazing grant will open on July 25. To apply visit https://awards.ecclacolorado.org
Thank you, Discount School Supply, for being our 2nd Quarter Sponsor and the sponsor of our very engaging and enriching Leadership Retreat this past May.